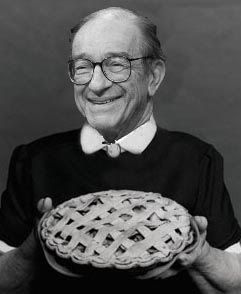 The Bubble Maestro Speaks. When will Greenspan learn to just shut his pie hole and hope that people forget his mismanagement of the Fed?

CNBC / Reuters:
Greenspan Says Fed Didn't Cause Housing Bubble -- Former Federal Reserve Chairman Alan Greenspan told CNBC that he had little to do with the housing bubble or credit crisis despite criticism that the Fed kept interest rates too low under his watch.

In an exclusive interview, Greenspan contended that low interest rates had nothing to do with the runnup in housing prices and subsequent collapse of the market. Housing prices, he contended, would have gone up anyway whether or not short-term interest rates were low.

"What is fairly clearly the case from the data, is that if adjustable rate mortgages weren't available, the purchases (of homes) still would've occurred," he said.

Under Greenspan the Fed cut rates from 6.5 percent in late 2000 to 1.0 percent in mid-2003.

Greenspan said the cuts were aimed at increasing liquidity in the financial system and heading off deflation, not boosting the housing market...

related:


book by Bill Fleckenstein/Fredrick Sheehan:
Greenspan's Bubbles: The Age of Ignorance at the Federal Reserve --

From the Back Cover
PRAISE FOR GREENSPAN'S BUBBLES
"It's about time someone set the record straight! Fleckenstein chips away at Greenspan's overinflated record as Fed Chairman to reveal a legacy of lousy forecasts, poor judgment, and two huge asset bubbles. It's devastating or delicious, depending on whether you're Greenspan or the reader."-Caroline Baum, columnist, Bloomberg News

"After reading Greenspan's Bubbles you will have no respect for the Fed! It's a must-read…in it, the authors demystify the belief that the Fed 'solves' problems when, in fact, it is directly responsible for a colossal destruction of wealth of the median household and of the U.S. currency through its irresponsible monetary policies."-Marc Faber, editor of the Gloom, Boom & Doom Report

"Greenspan for Mt. Rushmore? Not if Bill Fleckenstein has anything to say about it."-James Grant, editor of Grant's Interest Rate Observer

----

Caroline Baum / Bloomberg:
Volcker Stands Tall, Greenspan Keeps Shrinking
-- Former Federal Reserve Chairmen Paul Volcker and Alan Greenspan present an interesting study in contrasts.
Volcker is tall; Greenspan isn't. Volcker is a man of few words; Greenspan won't shut up. Volcker retired as Fed chair and avoided the limelight; Greenspan is doing everything possible to make sure the light shines on him...
----

Jeff Matthews:
'The Undertaker' Bares His Inner Soul
-- Not since Bill Clinton told the world he "did not have sex with that woman" and George Bush gave his Nixonian "mistakes were made" speech on Iraq, has a public figure of such stature tried to brazenly downplay his role in a public failing entirely of his own making...
Turns out, the man called "The Undertaker" by his role model—the androgynous, free-market, absolutist Ayn Rand—has a softer side that he never revealed to the capital markets denizens who once idolized him, until today:
He says rock-bottom interest rates actually went against his "19th century" aversion to easy money. "

My inner soul didn't feel comfortable,

" he says.
Makes one wonder what Ayn Rand is doing right now. Rolling in her grave, perhaps? ...
----

The Institutional Risk Analyst:
A Global House of Cards: Interview with Josh Rosner
--
... we notice that former Fed Chairman Alan Greenspan is defending himself on www.ft.com against a growing army of detractors. But we repeat that, in our view, the mortal sin of Greenspan and other US regulators over the past two decades was not irresponsible monetary policy, but rather dropping the ball on bank supervision and market structure. We described the ill effects of allowing the liberal academic economists at the Fed's Board of Governors in Washington to set bank supervision policy in a comment in Friday's American Banker.

In particular, in the two decades of Greenspan's tenure, the Fed's Washington staff, other regulators and the Congress allowed and enabled Wall Street to migrate more and more of the investment world off exchange and into the opaque world of over-the-counter derivative instruments and structured assets. This change is described by people like Greenspan and Treasury Secretary Hank Paulson as "innovation," but our old friend Martin Mayer rightly calls it "retrograde."...

Rosner: I see troubles radiating outward. What I mean specifically is that there is no functional change in the problems in the mortgage markets. What is really making us feel OK, at the moment, is the fact that banks are destroying shareholder capital and that they are raising new money. That's all well and good, but we still have not changed the underlying reality, namely that most of the losses taken so far are due to mark to market issues. We have not yet really seen the bulk of the underlying credit losses....

----

Other items of interest:

Bloomberg:
Goldman Sachs Level 3 Assets Jump, Exceeding Rivals
-- Goldman's share of
Level 3 assets surged 39 percent to $96.4 billion
at the end of February from $69.2 billion in November, according to a filing with the U.S. Securities and Exchange Commission today...
Under accounting rules,
Level 1
assets are those for which market prices are readily available.
Level 2
holdings are valued based on ``observable inputs,'' or prices of similar assets traded in the market. Assets fall into the
Level 3
category when there are hardly any observable inputs, and the firm has to rely on in-house models to calculate potential gains or losses...
----

Wall Street Journal:
Meet the Foreclosure Specialists -- Home sales are so slow that many real-estate agents are barely scraping by, but brokers specializing in selling bank-owned properties are thriving. And their bus tours of foreclosure hot spots are becoming common across the country...

Rooms With a Bubble View -- During the real-estate boom, many buyers purchased condo hotel rooms from developers hoping to get paid every time the room was rented. But condo hotels are coming back to haunt many of the people who bought the units, the developers that constructed the buildings, and the operators hired to run the hotels...

Selling History by the Square Foot -- In a backlash against vinyl-clad McMansions, some developers are creating historic-style communities with houses that look like they were built as long ago as the 17th century, but with decidedly modern trappings....
---