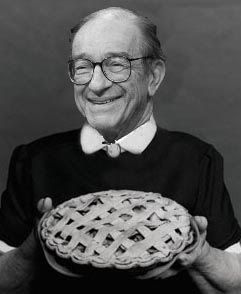 Did a "Greenspan Effect" cause the global warming of the financial markets?
Alan Greenspan, the Chairman of The Federal Reserve is exiting the world stage to applause sprinkled with some boos. James Grant for one thinks Greenspan was a con man:
The public worships Alan Greenspan for his oracular wisdom. But what is his legacy? It includes a crazy housing market, overextended consumers and a burst stock bubble

The most revered figure in American finance happens to be an aging price controller. Until the end of January the price of a short-term loan--the federal funds rate--will be whatever the chairman of the Federal Reserve Board decides to make it.

Never mind the conundrum of a flattish yield curve, where ten-year Treasurys now yield only six-tenths of a percentage point more than the funds rate. Alan Greenspan, 79, is a conundrum himself, personally: capitalist price controller, Ayn Rand-trained public servant and, most oxymoronic of all, beloved central banker.

His imminent leave-taking presents an occasion both to appraise his 18-year Fed stewardship and, more important, to speculate on its consequences to all who hold, save or invest the U.S. dollar.
Some astute financial forecasters believe a bad "hurricane season" is brewing in the warm frothy waters of the financial markets that Greenspan is leaving as his legacy. Will an unexpected category 5 financial crisis hit the newly appointed Fed chief, Ben Bernanke, squarely in the chops? Stephen S. Roach, the chief economist for Morgan Stanley, thinks so:
MOST FED chairmen are blindsided early on in their tenure...

The U.S. economy actually faces far greater threats than inflation - threats that an inflation targeter such as Bernanke may be ill-equipped to deal with.

At the top of the list is a record U.S. current account deficit the broadest measure of the nation's trade balance (imbalance, in this case) with the rest of the world. Running at an annual rate of close to $800 billion in the first half of 2005, it requires foreign funding to the tune of $3 billion per business day. To accomplish that without a sharp drop in the dollar and/or a related backup in interest rates requires extraordinary confidence on the part of foreign investors in U.S. assets.
Will the first big financial storm during Bernanke's term be named
Hurricane Alan
? Anyway, it sounds like you may need to sell your house and move to high ground. Or at least get your boots on and have your bailing buckets ready.
links:
The ambush waiting for Bernanke
[Roach, LA Times (sub required), Oct. 26, 2005]
Tough flying for the global economy
[Roach, Asia Times, Oct. 26, 2005]
O Sage! O Confidence Man!
[James Grant, Forbes, Oct. 31, 2005]