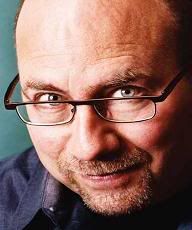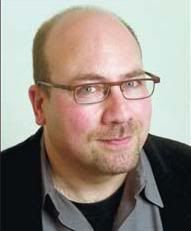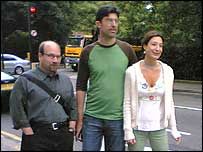 photos of Craig Newmark
A short, shy, unassuming, 52-year-old, balding man in San Francisco is slowly choking the newspaper business to death. His name is Craig Newmark. He is the founder and Chairman of
craigslist
.
Craigslist is a centralized network of websites for worldwide urban and regional communities. It features free classified advertisements along with discussion boards. There are currently 195
craigslist websites
serving all 50 US states, and over 47 countries.
Its sole source of revenue is paid employment ads in three cities ($75 per ad for the San Francisco Bay Area; and $25 per ad for New York, and Los Angeles). So 99.2 percent of craigslist advertisements remain free. Its internet traffic is now about a fifth of eBay's. Craigslist has quietly emerged as one of the top 10 internet companies in the world in terms of page views, attracting more than 10 million unique visitors per month. It also has a triple-digit annual growth rate.
Traditionally, local newspapers have derived 30 to 50 percent of their advertising revenue from the classifieds. Therefore, most newspaper publishers, whether they admit it or not, are very worried about craigslist.
Bio of Craig Newmark & and brief history of craigslist:
Craig Newmark was born on December 6, 1952, in Morristown, New Jersey.

"I miss the old homes and the old trees."

His father, who sold commodities such as food, insurance, and promotional items, died of lung cancer about six months after Newmark's bar mitzvah.


"We weren't poor, but not incredibly far from there."

Newmark's mother, Joyce Newmark, worked as a bookeeper and still lives in Morristown. They talk frequently on the phone. She had a heart bypass operation in 2003.


"I'm a very, very proud mother...I'd love to see him get married to a lovely girl."

He is a never-been-married bachelor.


Craig is 5'7" tall. Craigslist CEO Jim Buckmaster, stands a full foot taller than Newmark at 6'7."


Craig has a younger brother, Jeff Newmark. Jeff is the finance director for an Acura dealership in Springfield, NJ. He lives in Cransford, NJ, with his wife and children. Jeff said:


"My children are extremely close to him. Do you remember the "Make Room for Daddy" TV show? Do you remember Uncle Tonoose, who would blast in and out of town, full of fun? That's Uncle Craig."

Craig graduated from Morristown High in 1971. He was co-captain of the debate team and a member of the forensics club. He also started a club with friends for playing the Asian game Go.


He went to college at Case Western Reserve University in Cleveland, OH. He earned a bachelor's and a master's degree in computer science.


Degrees:
M. S. Computer Science, 1977, Case Western Reserve University, Cleveland, Ohio. Thesis: "Fundamental Models of Computer Systems and Their Relationship to Information Security."
B. S. Undergraduate Scholar, 1975, Case Western Reserve University, Cleveland, Ohio.

Lesson learned in language communications course:


"I remember realizing that it wasn't everyone else who had a communication problem. It had to be me. I miss what other people would find obvious. The perfect example would be that a woman may be real interested in me and I'll miss it completely."

Newmark worked at IBM for 17 years (1976-1993), first in Boca Raton, Fla., then Detroit, MI. His first job was in "Advanced technology" at IBM Boca Raton. During his time in Boca he enrolled in ballet and jazz dance classes to meet women. He ended up in the hospital with a hernia.


"I lived the Dilbert life"

Craig moved to San Francisco in mid 1993 to work for Charles Schwab and Co. (1993-1995). He was a Systems Security Architect and general consultant.

"I've been a San Franciscan all my life, although I only moved here in mid '93."

Since May 1994 he has lived on Cole Street in Cole Valley, CA. Cole Valley is a slowly gentrifying neighborhood of San Francisco.


He lives in the first floor flat/condo of a 1908 Edwardian that is so dark he has to use a nightlight to find his way down the hall and out into the bright sunlight.


"Really, the only thing I'm missing in terms of quality of life is a permanent parking space."

He put a SFLAN box on his roof (2003) that gives the Cole Valley community free Wi-Fi access to the Internet.


The Reverie Café is Newmark's neighborhood hangout. It's his home away from home. He met a girlfriend there in 2004.


In 1995, he became an independent contractor and began developing software for Bank of America (9/95-6/96), Xircom (now Intel, 6/95 - 8/95), Sun Microsystems (12/97-4/98) and several other companies. He did this until 1999.


Craig Newmark observed people on the Net, on the WELL and in Usenet, helping one another out. In early '95, he decided to help out, in a very small way, using email to tell people about cool events around San Francisco like the Anon Salon and Joe's Digital Diner.


"So, early '95, I decided that I would start sending people notices about cool events, usually ones that involved arts and technology. And from there, via word of mouth, the news of the list spread. People wanted to be added. People wanted more stuff like jobs or stuff to sell posted there. And then I said "how 'bout apartments?" and it just grew like that. People wanted more, had suggestions. We did it. And that's the pattern to this day."

In the middle of 1995, Newmark crossed a threshold. His email list hit 240 addresses, too many to be distributed by a cc list. So he posted it for public consumption by using a list server, majordomo, which required a name. Craig wanted to call it "sf-events," but more knowledgeable friends suggested calling it "craigslist" to reinforce its personal and down-to-earth nature.


Craig devoted himself full-time to craigslist in early 1999. At that time it was running on a single PC with a 128-megabyte hard drive in his living room. Craigslist has consistently earned profits since then.


"I ran the site as a hobby for a few years, and in 1998 brought on some volunteers who ran things for a year or so. Unfortunately they weren't too successful, and I decided to run the company in 1999. I saw that we needed to get serious and run it as an actual company."

Craigslist was incorporated as a for-profit in 1999.


"I made craigslist into a real company in '99, and made it a corporation (on paper, not attitude) to get the legal protections that you get that way. That's the way it works in the US."

"In terms of our normal organization, we are neither a nonprofit nor a conventional for-profit commercial company. We're something in between, and there is no term to describe what we do. On paper, we're a for-profit. But we just don't run like that."

craigslist corporate mantra: "Give people a break."


Craig hired Jim Buckmaster in 1999 to do technical work. Jim said:


"In 1999, craigslist was running on a PC. I took it to a multi-server environment. I took it to a number of other cities. When I came in, there were about a dozen classified categories. There was no search engine and no discussion boards. Every posting was reviewed and posted manually."

"I moved the site to a self-service model. I added the flag system, where users are able to flag a potential problem."

In September 2000 Craig had a legal dispute with former craigslist CEO Nancy Melone. Melone, who worked two years on the site during its infancy, said she was ousted in the spring of 2000 and got $32,000, and the List Foundation URL (listfoundation.org) as part of her severance pay. Listfoudation.org was a long time alternate address for craigslist. Melone went on to form MetroVox.com, a site that looked somewhat like Craig's List. MetroVox rerouted the listfoundation.org URL to their site without informing craigslist. This led to a storm of controversy. MetroVox ultimately failed to attract an audience. Newmark said:


"We didn't have any action against MetroVox. We had an action against an individual and we did not withdraw our right to sue for breach of contract, infringement or unfair competition."

He hired Jim Buckmaster as craigslist President and CEO in November 2000.


"in 2000 I hired Jim Buckmaster as CEO, and as a consequence I now own less than 50 percent. It was a good investment."

Founded the Craigslist Foundation in 2001. It is a 501(c)3 nonprofit organization that helps emerging nonprofit organizations.


"I set up a personal foundation and sent two big contributions-big for me-to one group providing eye exams and glasses to poor Israeli kids and the other group, same amount of money, to Palestinian kids. The theme there is giving everyone a break."

He joined with the EFF on June 6, 2002 to sue 28 Hollywood movie and TV studios over the right to copy television programs for personal use with a digitial video recorder (DVR). The lawsuite was called: Newmark, et al., v. Turner Broadcasting System, Inc. et al. Judge Cooper dismissed the Newmark Plaintiffs' case on January 9, 2004, because it had become a moot argument.


Fortune magazine reported in April 2004 that craigslist "revenues are roughly $7 million a year" (for 2003?). Consultant Classified Intelligence reckons the site drew $10 million in revenue in 2004. Fortune said Craig's take-home pay was around $200,000 a year. Craigslist had 8 employees in 1999. It had 14 employees in September 2004, and 18 employess in July 2005, but was in the process of hiring more customer service reps and Perl programmers. Craig has said he will not sell craigslist.


"Our philosophy is that we're basically making enough to pay the bills, with a little left."

On Aug. 14, 2004, craigslist announced that eBay (EBAY) had purchased a 25% stake in the company. The price was reported to be $15 million. Craig said:


Looking into the future (in 1999), I figured that maybe someday I'd go middle-aged crazy and/or megalomaniacal, and already, "I can resist anything but temptation" (Oscar Wilde) So, with the idea of establishing checks and balances, mostly on myself, I entrusted some equity in craigslist to a guy who was working with me at the time. (I won't name him, out of respect for his privacy)"

I figured it didn't matter, since everyone agreed that the equity had only symbolic value, not dollar value.

Well, the guy [Phillip Knowlton] later left the company, and decided to sell his equity, which i learned he had every legal right to do. He met with eBay, and eBay in turn approached us to see how we would feel about them getting involved with us.

Although I never figured that part of craigslist might be owned by a public company, Meg Whitman and Pierre Omidyar showed that they were interested in us for all the right reasons.

Regarding the eBay purchase CEO Jim Buckmaster said:


A former shareholder (identified by the Wall Street Journal as Phillip Knowlton) was looking to sell and approached eBay independently of us. Shortly after the shareholder talked with eBay, eBay was considerate enough to approach us and let us know they were talking. eBay executives said early on they would have zero interest in getting involved in this way unless we thought it was a good idea.

When asked about what Knowlton has done with the money from eBay, Jim's reply is:


"We're not really in contact with them so we're not sure what they're doing."

On October 10, 2004 the documentary film "24 Hours on Craigslist" was first shown. Eight film crews documented a random day-in-the-life of what has evolved into the world's largest online community. Craig is in the movie and plays himself. His take.

Filmmaker Michael Ferris Gibson showed just one scene of Craig sitting in front of a computer -- but filmed from behind. Newmark's features are never seen, his voice never heard. "I did that because there's this legendary side to Craig. Like the 'Wizard of Oz' thing."


Craig's job description: Chairman & customer service representative. He spends the bulk of his time purging spammers and con artists from the list. He uses his "keyboard of justice" to foil the "evildoers."


"Customer service always comes first."

"A lot of people think there is no Craig -- that I'm like Betty Crocker -- and I kind of like that."

Biggest problem (after spammers and Nigerian con artists): Sleazy apartment brokers in Manhattan.


my biggest single project is dealing with badly behaving apartment brokers in New York.

They can be very aggressive. We get complaints that they'll list apartments on craigslist as having no fees, then try to extract a fee when people show up. That's a difference of two months' rent.

I call them. I say this is Craig from craigslist. They say "Oh yeah, and I'm the Easter Bunny."

I reason with them. And if that doesn't work, we block their listings.

Craig even returns phantom phone calls regarding real estate listings in New York City.


Spirituality:


"My feeling is that something connecting people to fix the world over time is the deepest spiritual value you can have."

His inspirations are:


"Linus Torvalds and Brian Behlendorf because of the commitment and success with their respective projects, David Letterman because he's obsessed with doing things well, and Leonard Cohen because he's the closest thing I have to a rabbi. On the social/political level, President Josiah Bartlet, which really means Aaron Sorken, which I'm hoping translates to Howard Dean."

Politically, Craig has described himself as a moderate in some interviews. Newmark has donated money to the presidential campaign of Democratic Sen. John Kerry, "because he wants to see an honest guy in the White House" and said he supported Republican John McCain when he ran for office.


"I'm a pretty rabid civil libertarian."

Organizations he belongs to:
--Electronic Frontier Foundation member
--Michigan Gallery, board member emeritus - "or so they tell me."
--Board member of Climate Theater
--Board member of Haight Ashbury Food Program


Other projects and charity work:
--Craig's been a volunteer Internet explainer at the SF Exploratorium's Multimedia Playground.
--He gave thousands of dollars to the peace group OneVoice. May go to Israel with them.
--"in a very tiny way, supported the St. James Infirmary, a free clinic for sex workers"
--"supported both the Arab and Jewish film festivals."
--donated to a micro-finance group for Palestinian: The Shurush Initiative
--donated to about 50 schools and nonprofits, including public radio and women's shelters; Hope Flowers School (West Bank)


His hairstylist is Tina Balog - a "chatty" lady, who works at Head and Soul, a trendy salon near Fisherman's Wharf. Craig said:


"Talk to Tina, my hairdresser, I've been going to her for ten years. She'll tell you everything you want to know. She has a master's degree in psychology."

Newmark comes by every three weeks according to Tina. Since he's practically bald, she doesn't do more than a little buzz on top and goatee cleanup. Tina says:


"There is always a stream of gorgeous women coming in and out, so he likes that. He's not really deft at social cues. He really loves women but I think he doesn't know what to do with women, frankly. He's socially kind of introverted and more comfortable with machines than with people."

Craig owned a Saturn for over ten years. He now drives a hybrid Prius, but not to work. He prefers public transit, but has been advised by the nutritionist to walk the mile to work.


"The whole institution of the car is a bad idea.''

"I love the idea of light rail."

He is working with a nutritionist to improve his diet and health. Family history of heart disease.


"The burgers and onion rings are very good (at Burgermeister), although my nutritionist today reminded me that a burger has to be a rare treat."

Craig loves dogs, but does not have one. He often carries a bag of dog jerky with him for the neighborhood dogs.


"I'm not above buying the affection of dogs."

Craig with dogs: More dogs!, Dog picnic in Cole Valley; More dogs! More Cole Valley


He likes cats too.


"I like animals. I like cats, but I'm allergic to them. I prefer nature come to me, rather than going to nature. It's so much effort, and you might sweat."

Favorite movie: Blade Runner. A giant framed poster from the sci-fi movie "Blade Runner" sits in his spare bedroom which also serves as a home office.


John Irving's books have shaped his worldview and he's a cyberpunk buff. He's a fan of mystery novels, especially those by Lindsey Davis, whose protagonist is a detective in ancient Rome, and reads one to two books every week.


Besides mysteries, Craig reads books on trends, like Dan Gillmor's "We the Media," a variety of Weblogs including Gawker.com, Defamer.com, Dailykos.com and Wonkette.com.


He is also a fan of TV's "Law & Order," "CSI," "The Daily Show," and "David Letterman."


music...


* Leonard Cohen rules.
* Tori Amos
* Sarah McLachlan
* Kinky Friedman
* Sophie B. Hawkins
* Warren Zevon RIP
Links:
craigslist
Craig Newmark's blog
-
resume
craigslist
[wikipedia.org]
From tiny newsletter to top Web site
[cnn.com, Aug. 4, 2005]
What eBay Could Learn From Craigslist
[NY Times, Jun 5, 2005]
Craig Who?
[njmonthly.com, April 2005]
A day in the life of . . . Craig Newmark
[sfgate.com, Oct. 10, 2004]
Interview With Craig Newmark
[onlisareninsrader.com, Nov. 19, 2003]
Mr. Craigslist, Master of the Nerdiverse
[Wired, Sept. 2000]
Craigslist Gets Its Name in Lights
[Fortune, April 19, 2004]
Craig Newmark: Geek chic? Screw it, I'm a nerd.
[developers.sun.com, Oct. 8, 2003]
Are You on Craig's List?
[FastCompany]
Craigslist's silent emergence
[BBC, Aug. 4, 2005]
updated: Oct. 3, 2005