Updated: June 5, 2006

Louis Eppolito and Steve Caracappa, 2006
On April 6, 2006, Louis Eppolito and Steven Caracappa were
convicted on all charges
of working for the Luchese crime family while serving as detectives for the NYPD. On June 5, 2006, a judge told Eppolito and Caracappa that he will
sentence them both to life in prison
.
------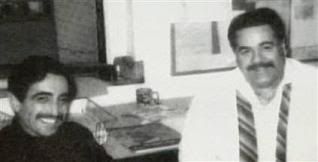 Ex-cops Steve Caracappa, left, and Louis Eppolito - convicted of being mob hit men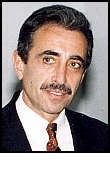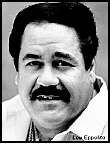 Stephen Caracappa and Louis Eppolito
------
Two highly decorated former New York City detectives,
Louis Eppolito
and
Stephen Caracappa
, were indicted last month (on Mar. 10, 2005) with
eight gangland murders
. Eppolito, 56, and Caracappa, 63, were also charged with two attempted murders, murder conspiracy, obstruction of justice, money laundering and drug distribution in one of the worst corruption cases in the history of the New York Police Department.
The two ex-cops had been living in Las Vegas (since 1994 for Eppolito and 1995 for Caracappa), when they were arrested last month. They were flown back to New York on Wednesday (Apr. 13, 2005) and are being held in solitary confinement because of their law enforcement backgrounds.
This case is very shocking given that these two detectives have received hundreds of commendations for bravery and excellence in the line of duty. Eppolito is among the most decorated cops in NYPD history. However his mob ties run deep. His father, Ralph, was a
Gambino family
soldier and enforcer known in the underworld as "Fat the Gangster." His uncle James was a Gambino captain who went by "Jimmy the Clam."
According to federal prosecutors' charges, Eppolito and Caracappa were on the payroll of
Lucchese family underboss Anthony (Gaspipe) Casso
, who dispatched them to settle his scores with eight men. From 1986 through January 1993, prosecutors allege, Casso paid Eppolito and Caracappa $4,000 a month for sensitive New York police and governmental information. Casso called them his "Crystal Ball."
On Thursday, April 14th, investigators said human remains recently unearthed nearly six feet beneath the concrete floor of a Brooklyn parking garage are that of a missing diamond dealer believed to be killed by Eppolito and Caracappa. This would be the ninth murder victim of the deadly duo.
Officials tentatively identified the victim as
Israel Greenwald
of Far Rockaway, Queens, who was 34 when he vanished on Feb. 10, 1986. He was declared legally dead in 1991.
The murders Eppolito and Caracappa are currently charged with:
December 1986 - murder conspiracy, murder and depraved indifference murder of

Nicholas Guido

. Nicholas Guido, a mildly retarded, Brooklyn telephone installer, is murdered in a case of mistaken identity. Eppolito and Caracappa fingered the wrong Nicholas Guido, mistaking him for mob associate with the same name.


October 1987 - murder conspiracy, murder and depraved indifference murder of

John "Otto" Heidel

. John Heidel, a member of a safecracking crew, is shot to death after Caracappa and Eppolito tell Casso he is cooperating with authorities.


February 1990 - murder conspiracy, murder and depraved indifference murder of

Anthony Dilapi

. Dilapi, a Luchese soldier, is killed in LA after refusing to meet with Casso. Caracappa and Eppolito helped Casso locate him.


May 1990 - murder conspiracy, murder, depraved indifference murder, obstruction of justice murder, retaliation against an informant murder of

James "Jimmy" Bishop

. Bishop, an official in Painters Union Local 37, is slain after Caracappa and Eppolito disclose he is cooperating in a corruption investigation.


August 1990 - murder conspiracy, murder, and depraved indifference murder of

Bruno Facciola

. Facciola is slain after he is identified as informant by Eppolito and Caracappa.


November 1990 - murder conspiracy and murder of

Edward Lino

. Gambino capo (John Gotti henchman) Edward Lino is shot dead on the Belt Parkway after his vehicle is pulled over by Eppolito and Caracappa, who followed him from social club. Caracappa is the shooter. The contract paid $65,000.


May 1991 - murder conspiracy, murder, and depraved indifference murder of

Bartolomeo "Bobby" Boriello

. Gambino soldier Bartolomeo (Bobby) Boriello is killed after Eppolito and Caracappa provide Casso with a possible address for him.
Facts about Louis J. Eppolito:
Eppolito wrote a 1992 autobiography entitled Mafia Cop: The Story of an Honest Cop Whose Family Was the Mob.


Has had small parts in 11 motion pictures including playing Fat Andy (in the Bamboo Lounge scene) in the 1990 movie GoodFellas.


Wrote the 2001 movie

Turn of Faith

.


Louis Eppolito won the bodybuilding title of Mr. New York City in 1967.





Eppolito joined the New York Police Department in August 1969.


He collected snakes and wore several rings, including one adorned with a serpent.


He first met Stephen Caracappa in 1979, on the Brooklyn robbery squad.


Eppolito was charged in 1984 with passing police files to a mobster under investigation. He was eventually cleared, but felt betrayed by the police department.


Eppolito appeared in a 1985 documentary about anger. In the documentary, he recalls what he said to his bosses when, while under investigation, they called him in and made him surrender his badge: "I said, 'If you keep insisting on f---ing with me,' I said, 'I'm gonna give you a beating. And your mother's gonna throw up when I show her your picture.' I said, 'I'm not b---s----ing you. Don't try to goad me any more than you're doing, because the four guys with you, you gotta realize, by the time they get up – I'm gonna break your nose and take your teeth out with one shot.' And the anger started to come."


He had a heart attack in 1989.


Eppolito retired on disability from NYPD in February 1990.


He moved to Las Vegas in 1994.


In 1996, he moved to a new large white house, on Silver Bear Way, in Spanish Palms - a gated community in southwest Las Vegas. The house has a pink cobblestone walkway, a 5-foot-high fountain on the lawn and two white pillars at the entrance.


His two-story, four-bedroom house cost $361,600 and was nearly twice as big as his neighbor Caracappa's house. There was space for Eppolito's mother-in-law, who would could cook her savory Italian dishes in the roomy kitchen, and a pool for family gatherings. He entertained guests including actors from HBO's

The Sopranos

.


In a June 2003 photo, former New York City police detective Louis Eppolito holds a full-page Las Vegas Review-Journal advertisement in which he and others argued that Sandy Murphy, who then was accused of killing her boyfriend, did not kill casino millionaire Ted Binion. Eppolito was the spokesman for Citizens to Ensure that Justice is Done.


Eppolito underwent heart surgery in December 2004 after suffering another heart attack.


The feds say he bought his house with proceeds from methamphetamine trafficking.


Eppolito's son, Anthony, was charged in a separate indictment with distributing methamphetamine. He also has a wife and two daughters (Andrea Eppolito, 28, and ..).


He owned a Cadillac with the license plate RIDINLAX.


Eppolito started De-an-tone Productions in hopes of making a movie.


He has a Mastiff dog named Caesar.


Agents found 116 firearms in Eppolito's home. Eppolito's attorney said the guns were part of a legitimate arms collection.


His defense lawyer is Bruce Cutler, who is best known for representing John Gotti.
Facts about Stephen Caracappa:
Caracappa served in Vietnam and joined the NYPD in June 1969.


Caracappa was assigned to the NYPD's prestigious major case squad in 1986. There he had access to a flood of secret information on the mob.


He retired on disability pension as a detective first grade in November 1992.


Caracappa moved to Las Vegas in 1995. He lived across the street from Eppolito in Spanish Palms - a gated community.


Caracappa purchased his modest three-bedroom home for $234,690.


Caracappa once worked as a chief investigator at the (privately operated) Southern Nevada Women's Correctional Facility in North Las Vegas. As a chief investigator, Caracappa was responsible for working cases of inmate criminal activity.


He had a Nevada private investigator's license and ran a security company in Las Vegas.


Caracappa has a wife and daughter.


His lawyer is Edward Hayes.
The indictment contains only charges. A defendant is presumed innocent of the charges, and it will be the government's burden to prove a defendant's guilt beyond a reasonable doubt at trial.
links:
Mob-cop tie to body in garage
[NY Daily News, Apr. 15, 2005]
Officials: Body apparent victim of mobbed-up cops
[NY Daily News, Apr. 15, 2005]
Ex-Mob Boss Points A Finger
[CBS 60 Mintues, Apr. 10, 2005]
'Mafia cops' move to Vegas, can't outdistance allegations
[St. Pete Times, Apr. 10, 2005]
Ex-cops accused of doubling as mob hitmen
[msnbc, Apr. 8, 2005]
Cousin Got The Mafia Cop Started
[Gangland News, Mar. 17, 2005]
Blood Ties: 2 Officers' Long Path to Mob Murder Indictments
[NY Times, Mar. 12, 2005]
Muscle & brains behind mob cops
[NY Daily News, Mar. 12, 2005]
2 former N.Y. cops charged as Mafia hit men
[cnn, Mar. 11, 2005]
Arrests At Piero's: Ex-detectives go to court
[Las Vegas Review Journal, Mar. 11, 2005]
2 cops who killed for Mafia
[NY Daily News, Mar. 10, 2005]
Indictment against Caracappa & Eppolito
[ispn.org]
Note - the five traditional NY Mafia families:
Bonanno
,
Colombo
,
Gambino
,
Genovese
and Lucchese.
Update Apr. 29, 2005
:
Caracappa and Eppolito pleaded not guilty at their Brooklyn federal court arraignment Thursday, April 21, 2005, on charges that included murder, drug distribution and money laundering. The next status hearing for both men is scheduled for June 7, 2005.
Ex-N.Y. cops plead not guilty to hit men charges
[CNN, Apr. 21, 2005]
Mob cop's her Daddy Dearest
[NY Daily News, Apr. 21, 2005]
'Old Man' of Jewish Mafia Key Informant in Killer-cops Case
[Forward.com, Apr. 29, 2005]