----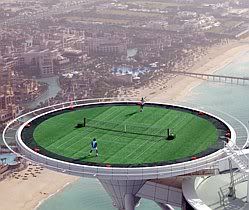 Playing tennis on the helipad of the
Burj Al Arab Hotel
in Dubai, United Arab Emirates, looks like fun. Just don't play too far behind the baseline. The hotel helipad projects from the building and is 24 meters (79 feet) in diameter and is 210 meters (689 feet) above the ground
A
regulation tennis court
for singles is 27 feet wide by 78 feet long (36x78 for doubles). The court they made for this demonstration was shortened by several feet. The hotel press release said:
In preparation for the Dubai Duty Free Men's Open, tennis legend, Andre Agassi and the world No. 1, Roger Federer, couldn't resist the temptation to have a friendly knock about on the world's highest tennis court, the helipad of Burj Al Arab, the world's most luxurious hotel.

Both players are in Dubai to compete in the US$1 million Dubai Duty Free Men's Open, which is the first round of the two-week Dubai Tennis Championships.
sources:
World's Top Tennis Stars Practice at Burj Al Arab, Dubai
[burj-al-arab.com]
The helipad open tennis photos
[bbc]