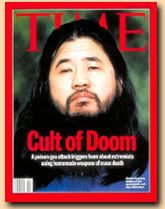 Chizuo Matsumoto aka: Shoko Asahara

From the time he was a small child, Chizuo Matsumoto wanted only one thing, to be rich. It was quite an ambition considering his circumstances. Matsumoto, who is partly blind, grew up to become an acupuncturist, yoga instructor, charismatic cult leader, and terrorist.

Chizuo Matsumoto changed his name to Shoko Asahara and established the Aum cult (pronounced "ohm") in 1987. They were approved as a religious entity in 1989 under Japanese law. When the cult was stripped of their legal religious status and tax breaks under Japanese law in 1995 they launched the poison gas attack on the Tokyo subway system.

Despite the crack down after the Tokyo attack the Aum cult is still very active and potentially dangerous.

The Crime Library has a good article about the Aum cult's history. John Rickard at the Military History Blog covers the Aum cult's current significant financial wherewithal and terrorist wildcard intentions:

At the time of the Tokyo subway attack, the group claimed to have 9,000 members in Japan and up to 40,000 worldwide. Its current strength is unknown. The Cult operates in Japan, but previously had a presence in Australia, Russia, Ukraine, Germany, Taiwan, Sri Lanka, the former Yugoslavia, and the United States. The groups funding comes from the savings that new members turn over to the cult, from tax-exempt businesses staffed by cult members, and from fraud and extortion.

Aum's assets have been estimated at between 300 million and one billion dollars.

Thirteen Aum-associated businesses and five stores earn billions of yen each year. The cult's specialty is selling cheap computers. In 1997 its computer sales earned it more than 57.5 million dollars

The cult has succeeded in recruiting highly trained scientists and graduate students in physics, chemistry, biology, medicine and electrical engineering. Its recruiting methods include a wide range of standard brainwashing techniques, such as sleep deprivation and forced isolation. The group may have perpetrated other crimes before the March 1995 attack and without a doubt planned future attacks; evidence indicates that members of the group travelled to Africa to try and obtain samples of the Ebola virus to use as a biological weapon and may be actively seeking other biological and chemical agents for use in terrorist attacks...
In 2000, the organization changed its name to
Aleph
- the first letter of the Hebrew alphabet.
links:
Aum Shinrikyo Cult/Terrorist Organisation
[rickard.karoo.net, Nov. 13, 2004]
The Aum Supreme Truth Terrorist Organization
[The Crime Library]
related:
Shoko Asahara
[wikipedia.org]
Aum Shinrikyo
(also spelled Om Shin Rikyo) [wikipedia.org]
Rick A. Ross Institute-Aun Sect/Shoko Asahara
[detailed tracking of cult activities and history]
Japan Aum cult's anthrax attempt was wake-up call
[Reuters, Oct. 11, 2001]
Aum cult's quiet comeback causing new concerns in Japan
[AP, March 15, 1999]
Aleph
The organization's official website - English section.