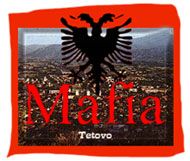 M. Bozinovich of
serbianna.com
writes an excellent summary of some of the current information about how dangerous and widespread the Muslim Albanian Mafia has become. He calls them "The New Islamic Mafia." He recounts some history, for example, when two Albanian mobsters killed two employees who crossed them at the famous
New York City strip club - Scores
:
A 1996 murder of a waiter, Jonathon Segal, and a bouncer, Michael Greco, in New York's Scores restaurant illustrates the indifference and haste with which Albanian assassins kill: two ethnic Albanians employed as Gambino family assassins opened fire on the waiter and bouncer after instigating an argument over quality of service they got in the restaurant.
CNN
reported
in August about FBI concerns that the Albanian Mafia is becomimg a serious problem in the US:
Thousands of Albanians and others who fled the Balkans for the United States in recent years have emerged as a serious organized crime problem, threatening to displace La Cosa Nostra (LCN) families as kingpins of U.S. crime, top FBI officials said Wednesday.

The Albanian criminal enterprises, operating largely in New York and other Eastern seaboard cities, represent a major challenge to federal agents because of their propensity for violence and brutality, the officials said.

"They are a hardened group, operating with reckless abandon," said Chris Swecker, the newly named FBI assistant director for the Criminal Investigative Division.

Swecker and other officials said some of the Albanians served as enforcers in the established Mafia families for several years.
Dusan Janjic, Coordinator of the Forum for Ethnic Relations in Serbia, was
interviewed by orgkriminal.org
in May about the Albanian mafia. He cites some reasons for the success of the Albanian criminal gangs and who leads them:
Numerous myths are circulating broad about the Albanian mob. What are its advantages compared with other similar groups? JANJIC: They have several. Firstly they speak a language that few people in Europe understand. Secondly, its internal organization is based on family ties, breeding solidarity and safety. Thirdly there is the code of silence and it is perfectly normally for somebody to die if he violates the code. Such murders are considered ethically justified. When people talk about the mob`s brutality they mostly mean brutality directed towards it own people who broke the rules...

Who are the heads of the Albanian mob? JANJIC: When it comes to drugs, the top people are in Denmark, mostly families originally from Trnovac. The rest are in Germany, Switzerland, and coordinate the trade. There are also smaller bosses, all of them involved in some part of the operation and there are parallel ties. It is hard to say who is the de facto organizer of the business. Billions of dollars are involved.
Speaking anonymously for Philadelphia's
City Paper
a member of the "Kielbasa Posse", an ethnic Polish mob group, declared in 2002 that Poles are willing to do business with "just about anybody. Dominicans. Blacks. Italians. Asian street gangs. Russians. But they won't go near the Albanian mob. The Albanians are too violent and too unpredictable."
The KLA or Kosovo Liberation Army (an Islamic group) may be one of the links between Al-Qaeda and the Albanian Mafia.
NewAmerican.com
details the links and reports:
According to Interpol's Ralf Mutschke, the KLA is an example of a "hybrid" criminal group that straddles the border between ideological terrorism and international organized crime. Working with existing underworld groups, such as the Albanian Mafia and various Italian crime syndicates, the KLA has carved a niche for itself in the world of international sex slavery (the abduction of women who are forced into prostitution). But its most profitable venture is the global heroin trade.
The Christian Science Monitor
reported
about Albanians in this country collecting money for the KLA:
Typical of the donors is Agim Jusufi, a building superintendent on Manhattan's West Side. Mr. Jusufi gets a weekly paycheck. He describes himself as an ordinary "working man." However, he has donated $5,000 to the KLA.

"It is always stressed that we should donate when we can," he says, "We are in a grave moment, so we are raising money."

Jusufi bridles over reports that drug money funds the KLA. There has been an Albanian organized-crime element involved in the drug trade for decades. But, he says, in this country, the money comes from hard-working immigrants. "We have canceled checks to prove it," he says.

Jusufi, who has worked in Switzerland, says Albanians living there and in Germany often donate 3 to 6 percent of their salary toward Albanian causes. He calls it a kind of tax.
Benjamin C. Works has collected a
list of articles
that discuss the connection between the Kosovo Albanians, their heroin Mafia and the KLA insurrection in Kosovo of 1997-99. Articles date back to a 1985 Wall Street Journal account of Rudy Giuliani --then Federal prosecutor in NYC-- prosecuting the Kosovo Mafia.
The JUTARNJI LIST (Morning Paper, Croatian national daily from Zagreb)
reported
last year that: "the
Head of the Macedonian Mafia is currently in New York
. He is considered the one who controls the production and trafficking of heroin."
Links:
The New Islamic Mafia
[serbianna.com]
FBI: Albanian mobsters 'new Mafia'
[CNN]
An Interview with Dusan Janjic, Coordinator of the Forum for Ethnic Relations
[orgkriminal.org]
Pole-Vaulting
[City Paper]
Behind the Terror Network
[NewAmerican.com]
Pulling political and purse strings
[csmonitor.com]
Articles on KLA-Kosovo-Drugs-Mafia and Fundraising
[Benjamin C. Works]
New Mafia Bosses More Moderate and Devious
[JUTARNJI LIST]
Johnsville News coverage of Albanian Mafia:
Albanian Mafia and Nationalism
[21-Aug-04]
The Rudaj Organization aka: The Albanian Mafia
[2-Nov-04]