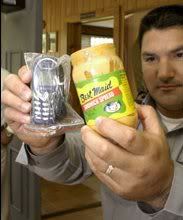 Smuggled cellphones have become a very big problem in prisons, with inmates using them to plot escapes, buy drugs, arrange hits, intimidate witnesses, or oversee organized crime back home. The NY Times reports:


Most prisons and jails in the United States have policies forbidding inmates to have cellphones. At least three states have taken the enforcement a step further by making it a crime for an inmate to have a cellphone.

Under a law enacted last year in Texas, it is a felony punishable by up to 10 years in prison for an inmate to possess a cellphone or for a person to give one to an inmate. The inspector general of the Texas Department of Criminal Justice is now prosecuting 50 cases of cellphone use by inmates, some involving multiple defendants.

Iowa and Pennsylvania have recently enacted similar laws.
Inmates Use Smuggled Cellphones to Maintain a Foot on the Outside
[NY Times]