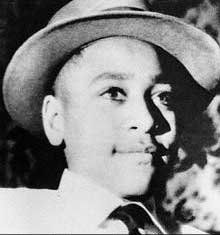 The U.S. Department of Justice is re-opening the investigation of the murder of Emmett Louis Till in 1955. This racist killing was a catalyst for the start of the civil rights movement.

In August 1955, Till, a 14-year-old African-American boy from Chicago who was in Mississippi visiting relatives, allegedly whistled at the wife of a white man, Roy Bryant. Four days later, Bryant and his half-brother, J. W. Milam, yanked Emmett from his bed in the dead of night, threw him in the back of their truck, and beat him beyond recognition with a Colt .45 before tying a metal fan to his neck, shooting him, and throwing his body in a river.
[USN&WR]
Roy Bryant and J.W. Milam were acquitted of the murder by an all-white jury. The jury deliberated for one hour and seven minutes, including a "soda break."
J.W. Milam, Roy Bryant and their wives exulted in the verdict. [
image
]
Bryant and Milam
confessed the killing
to a Look magazine reporter, William Bradford Huie.
50,000 people viewed the open casket funeral of Emmett Tills. His mother wanted the world to see what had happened to her son in Mississippi. The mutilated body of Emmett Tills- [
graphic image
]
Two documentary movies about the case surmised that Bryant and Milam did not act alone.
• "The Murder of Emmett Till" by Stanley Nelson
• "The Untold Story of Emmett Louis Till" by Keith A. Beauchamp
JUSTICE DEPARTMENT TO INVESTIGATE 1955 EMMETT TILL MURDER
[Dept of Justice]
Feds reopen 1955 racial slaying case
[USAToday]
MISSISSIPPI MADNESS: THE STORY OF EMMETT TILL
[CrimeLibrary]
update May 23, 2004:
The agents for justice
-Newsday profiles movie makers Keith A. Beauchamp and Stanley Nelson
EmmettTillMurder.com
[case resources]
update Jan. 24, 2005:
More information about the Emmett Till murder-
Filmmaker looks for justice
(Keith Beauchamp) [The Ithacan, Jan. 20, 2005]
Emmett Till
[Wikipedia.org]
The Murder of Emmett Till
[watson.org]
Justice, Delayed But Not Denied
[60 Minutes, CBS News, Oct. 21, 2004]
The Murder of Emmett Till
[American Experience Documentary, PBS]