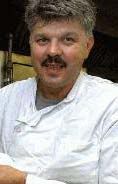 Restaurateur/Chef Zef Vulevic
Police yesterday removed a five-foot-high electric meat saw from Gusto Ristorante in Danbury, CT. This is the location where restaurateur/chef Zef Vulevic was last seen on April 5, 2004. Pieces of his body were found in garbage bags 25-miles away on Baldwin Road in Bedford, NY. on April 24, 2004.
The investigation is now focusing on the restaurant as the possible crime scene.
Some facts about the investigation:
• Vulevic was 6-foot-1 and 240 pounds
• He had two gun shot wounds in the back of the head
• Vuli's head, arms and legs had been severed, and his torso cut in half (7 pieces)
• Nick Vulevic (his brother) reported him missing at 11:30 p.m. on 10-Apr-04
• Vuli's wife, Valbona, filed for divorce last October
• He had two daughters, ages 13 and 8
• Vulevic filed for bankruptcy six months ago and lost his house in Norwalk, CT (on 154 West Rocks Rd) to foreclosure
• He was living with his nephew and restaurant co-owner Marash Gojcaj, age 27
• Police in Norwalk said Vulevic had been arrested on three occasions. He was wanted for failing to appear in state Superior Court in Norwalk. He missed a Feb. 18 court date for three Norwalk cases:
• 2000 arrest for second-degree breach of peace
• Feb 2001 arrest for second-degree assault
• Dec 2002 arrest for disorderly conduct.
• All three Norwalk arrests stemmed from domestic incidents in which Vulevic allegedly beat and injured his wife
• Vulevic was arrested and charged (misdemeanor assault) in March 2003 for assaulting a waiter at Vuli, his revolving restaurant atop the Marriott hotel in Stamford, Conn.
• Vulevic was arrested in Derby, CT for creating a public disturbance and was fined-Aug. 29, 2003.
• Vulevic had argued about business about 1 hour before he left Gusto (nephew and two restaurant workers involved)
• He was last seen by his nephew Gojcaj leaving Gusto around 1 a.m. on foot heading toward the East Liberty Street apartment that they shared.
• He did not drive home in the restaurant van.
• Vulevic left his cell phone at the restaurant.
• After Vulevic disappeared a piece of carpet at the upscale Italian restaurant was replaced and a piece of kitchen equipment was professionally serviced
• The restaurant had been closed last week for a scouring by environmental cleaners
• Police are closely inspecting a restaurant van (may have transported body)
• Police have searched an apartment of a Gusto employee
• Restaurant co-owner Marash Gojcaj, 27 is a "person of interest"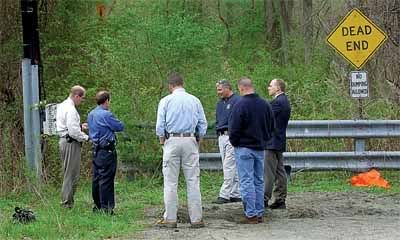 This case reminds us of a CSI episode. It also reminds us of the
infamous murder in nearby Newtown
, CT in the 1980's. An airline pilot's wife disappeared. Fragments of her bones were found in a nearby river, and her husband was accused of murdering her and then using a woodchipper to dispose of her body. Local wags said he was trying to rekindle their romance.
related links:
CHEF-CHOP SURPRISE
[NY Post, Apr. 28, 2004]
Police seize meat cutter from Danbury cafe of dead restaurateur
[Stamford Advocate]
Police hunt for chef's killer
[The News-Times]
updated
: April 30, 2004