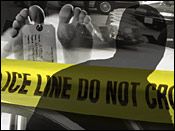 Did the son of the BTK, "Bind, Torture, & Kill" strangler mail the BTK letter last month to The Wichita Eagle? This theory has been making the rounds on several BTK message boards. Police apparently had enough probably cause to believe that possibility existed as they conducted a search and interrogation of Nathan Thomason. KAKE TV reports:

Could Nathan Thomason be the son of BTK? It's a theory that reportedly led Wichita police to a home on south Bleckley that Nathan shares with his mother.

Thomason says Saturday he heard a knock on the door. He recognized the man at the door, one of the lead investigators on the BTK case.

For the next seven hours, Nathan and his mom say they were questioned by police at City Hall. Meanwhile their home was searched from top to bottom. "Everything all out in the middle of the floor, they went through my closet," Thomason said.

Shirley Thomason met her husband in Texas in 1976. They moved back to Wichita later that year. They stayed in Wichita until 1993 when Nathan senior was sent to prison for sexual assault. He was released six years later, and committed suicide in 2001.

Close to the Investigation
[KAKE TV]
BTK (Bind, Torture, & Kill) Strangler Info & Voice Recording
[Consolidated Information]