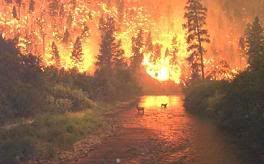 Worldnetdaily reports: An Arabic-language jihadi website posted a message purporting to be "al-Qaida's plan of economic attack" on the U.S. that included setting forest fires, according to the Northeast Intelligence Network.

The six-point plan appeared Saturday, April 3, 2004 and called for:

• attacks on the assets of large American companies all over the world;
• attacks on U.S. oil refineries;
• attacks on civilian airports with the goal of financially devastating U.S. airlines;
• deliberate pollution of food system;
• setting of fires in the forests – "especially those that provide the American market with the raw materials for the wood and paper and byproducts industries";
• attacks like those on the railway transportation lines in Spain;

Arson is suspected in some of the California wildfires. Meanwhile, there is evidence terrorism was behind other wildfires in Europe and Australia last summer.