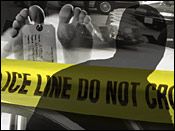 • The Wichita BTK (Bind-Torture-Kill) Strangler's reference to "Dr. H.H. Holmes" is very intriguing. It ties into a long-time theory that the killer had a Wichita State University connection. Who else but a student, perhaps an
Administration of Justice student at WSU
, would be able to cite a rather obscure killer from the 1800's in their written psycho-rant.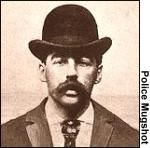 Herman W. Mudgett - aka Dr. H.H. Holmes
Dr. H.H. Holmes
is considered by many to be America's first psychopathic serial killer.
The BTK made this reference to Dr. H.H. Homes before 1980, before the Internet, and before the term serial killer was popularized. Where did he pick up that factoid? BTK had to have read a book, or magazine ("
True Detective
"?), or attended a lecture about Mudgett a.k.a. Dr. H.H. Holmes and Harvey Glatman.
Unfortunately, it seems after some brief testing that the new
Amazon A9 search engine
does not have books from before 1980 indexed. Otherwise we could pull up every book and page prior to 1980 where the names Dr. H.H. Holmes and Harvey Glatman are mentioned. Investigators could then go back to the WSU Library and other area libraries to see if they could find who checked those particular books out. They might still have some records. Don't know about dusting for fingerprints. The bottomline is that in the future using Amazon's A9 to crunch obscure references in killer communiques might offer some insights.
Here is one book about Mudgett/H.H. Holmes published before 1979:
The Torture Doctor
(1975) by David Franke
More On The Wichita State University connection
:
• Ezboard post from Goodsister777 on 11/5/03 12:49 pm regarding the WSU connection:
I grew up in wichita, and still live in the area. My father was a police officer with the WPD for 24 years, including the time of the BTK killings. Some of this may be confusing, as I am confused by it, and was looking up info on these killings myself when I found these posts. I was only around 6 - 7 years old when these killings started, and my father doesn't like to talk about them all that much. They interest me, as I remember the fear that gripped the city. I remember being glad that our bathroom had a window, so that I could escape too, in case he came to our house.
I think that the reason for thinking that BTK was a criminal justice student was because that the killings took place geographically close to WSU, that the language used in the BTK letters was police lingo, he wrote a poem using the format of a poem that was in a textbook from WSU, and that he left so little physical evidence. (Only 1 known fingerprint) Also, the psychological profile suggests that he would be interested in detective magazines, law enforcement, et., and try to insert himself into the case in some fashion. (My dad thinks that news reporters are good suspects as well, for this reason) Also, his killings seemed to end, as if perhaps he had graduated, and was actually from somewhere else, attending school here. That is a strong belief amoung many veteran police officers. That he moved. But where?
I don't think that any of the people that were killed were WSU students. I could be wrong. I remember that ppl were afraid to go to laundry-mats during that time. I asked my father why, and he said that several of the victims had used the same laundry-mat...
• Ezboard post from shaya41 on 11/2/03 4:58 pm regarding the WSU connection:
I grew up in Wichita and BTK was my first exposure to serial killers. I became hooked on the psychology of such monsters, but he still scares me silly!
Years later I was an Admin of Justice student at Wichita State University and all of my profs had contacts into the investigation and their own pet theories. The things they all agreed on was that the cops knew who he was but couldn't prove it, and that at some point he had been a WSU AJ student. One of my psych profs even claimed he had a friend that had done some therapy for BTK and his friend was scared to death of his patient.
• Police have said a copy of the BTK October 1974 Letter came from a copy machine at WSU. The Wichita Eagle reports the copy machine was in the WSU Library. Another report places the copier in the basement of Hubbard Hall?
• Two suspected BTK murders involved WSU students:
Nov. 12, 1974:
Sherry Baker
, 23, a Wichita State University student, was found stabbed to death in her apartment at 603 New York. Her hands were tied behind her back with a coiled telephone cord, and she was stabbed with a pair of scissors. There was no sign of forced entry.
June 29, 1985:
Linda Shawn Casey
, 31, another WSU student, was found dead on the bedroom floor of her home at 356 N. Spruce. She had been bound, beaten, sexually assaulted and stabbed repeatedly.
• The WSU connection is discussed further on an ezboard.com BTK thread -
WSU Student?
•
DNA Dragnet vs. Individual Freedoms
Cases like the BTK (Bind-Torture-Kill) Strangler stir up public opinionover the government maintaining a DNA database. KWCH-TV reported:
Wichita detectives are swabbing hundreds of people in an attempt to match DNA to the serial killer. But one Wichita man who contacted Eyewitness News wonders when his personal freedoms give way to public protection. He has refused to give police a saliva swab. He does not want to be identified because he doesn't want his name associated with being a BTK suspect. The man says he's not trying to be difficult or hinder the investigation. But he wants to make sure his personal information is protected.
Would Americans ever tolerate a British style DNA sampling campaign that eventually lead to catching the UK killer
Colin Pitchfork
?
• Psyche's Knot considers the
BTK - Harvey Glatman Influence?
The self named, BTK Strangler wrote the following in a 1978 letter to KAKE-TV:
"You don't understand these things because your not under the influence of factor x. The same thing that made Son of Sam, Jack The Ripper, Havery Glatman, Boston Strangler, Dr. H.H. Holmes Panty Hose Strangler of Florida, Hillside Strangler, Ted of The West Coast and many more infamous character kill. . . It seems senseless but we cannot help it, There is no help, no cure, except death or being caught and put away. . ."
P.S. How about some name for me, its time: 7 down and many more to go. I like the following. How about you? 'THE B.T.K STRANGLER, 'WICHITA STRANGLER', 'POETIC STRANGLER', 'THE BONDAGE STRANGER' OR 'PSYCHO', 'THE WICHITA HANGMAN', THE WICHITA EXECUTIONER, 'THE GAROTE PHATHOM', 'THE ASPHYXIATER'.
The "Havery Glatman" referred to is actually
Harvey Glatman
, who killed three young women in the late 1950's. He is one of the first sexually sadistic, serial killers to be identified, even before the term "serial killer" came into use.
Psyche also looks at the BTK Strangler's use of venetian blind cord...
links:
Man on BTK suspect list refuses DNA test
[KWCH 12, 6-Apr-04]
BTK (Bind, Torture, & Kill) Strangler Info
[TJN]
Update
: If this lead/clue had been followed up aggressively it would have led to
Dennis Rader the convicted BTK serial killer
. He graduated from Wichita State University in 1979 with a bachelor's degree in Administration of Justice.