• Mohammed Bah Abba of Nigeria won a Rolex award for his "pot-in-pot refrigerator". Food that used to spoil in a few days now stays fresh for weeks: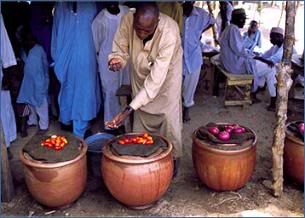 Born into a family of earthen pot makers and raised in the rural north, Mohammed Bah Abba was from an early age familiar with the various practical and symbolic uses of traditional clay pots. As a child he learned the rudiments of pottery making and was struck by how the clay figures he moulded were water retentive and remained intact even when dry, unlike items made from other soils. Subsequently studying biology, chemistry and geology at school, Abba unravelled the technical puzzle that led him years later to create the "Pot-in-Pot Preservation/Cooling System".

The 36-year-old teacher has been selected as a Rolex Laureate for this ingenious technique that requires no external energy supply to preserve fruit, vegetables and other perishables in hot, arid climates. The Pot-in-Pot cooling system, a kind of "desert refrigerator", helps subsistence farmers in northern Nigeria by reducing food spoilage and waste and thus increasing their income and limiting the health hazards of decaying foods.

• Sanoussi Diakité of Senegal invented a husking machine designed to encourage the widespread consumption of fonio, once a popular foodstuff in Africa, by reducing the time required to prepare it from an hour - by hand - to a matter of minutes.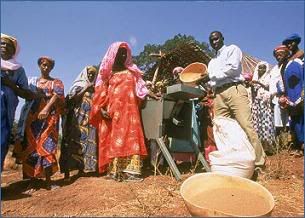 The production of fonio, one of the most nutritious and best-tasting of African cereals, has steadily declined in the last few decades due to the tedious process of removing the brittle husks from the grain. Sanoussi Diakité, a Senegalese mechanical engineer, has invented a husking machine which, by taking the drudgery out of preparing fonio, should put this once-popular foodstuff back on tables throughout the Sahelian region.

There is an African saying that the stamina of a young bride may be measured by her ability to prepare fonio. Fonio (Digitaria exilis) is a highly nutritious cereal which, although known since the sixteenth century, is about to disappear.

Cultivated in some 15 African countries, from the Cape Verde Islands to Chad and including the Côte d'Ivoire, Cameroon and Togo, fonio grows easily in the Sahelian environment. It can withstand draught and floods and flourishes in poor soils at a speed that enables local farmers to benefit from two or three harvests a year.

Rolex Awards
Mohammed Bah Abba----A True Human Scientist
Sanoussi Diakité: Fonio Dehulling