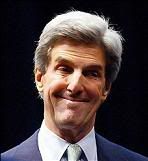 Ketchup King- Kerry Owns Five Homes
"From a sailing mecca to a ski resort, presumptive Democratic presidential nominee John Kerry and his wife, Teresa Heinz Kerry, enjoy the trappings of their wealth in at least five homes and vacation getaways across the country valued at nearly $33 million," the AP reports.

• Boston: A five-story, 12-room Beacon Hill town house that serves as Mr. Kerry's main residence. Assessed value: $6.9 million.
• Nantucket: A three-story, five-bedroom waterfront retreat on Brant Point. Assessed value: $9.18 million.
• Washington, D.C.: A 23-room town house in Georgetown. Proposed 2005 assessment: $4.7 million.
• Ketchum, Idaho: A ski getaway converted from a reassembled barn near Sun Valley. Assessed value: $4.9 million.
• Fox Chapel, Pa.: A nine-room colonial on nearly 90 acres in suburban Pittsburgh. Assessed value: $3.7 million.