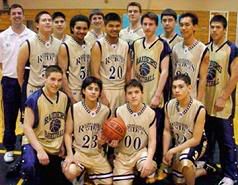 Unalaska Raiders Boy's Basketball Team for 2003-2004

NY Times story tells how play is hard work in the great white North: It took 90 minutes at sea in a small boat, five hours driving in two vans and 75 minutes on a commuter jet before the boys and girls basketball teams from Seldovia reached Bethel, a remote town in western Alaska.

When the players stepped off the jet onto the Bethel tarmac, as flat as the tundra enveloping it, the late-afternoon temperature was 38 degrees below zero.

Seldovia's players would stay for four nights, sleeping on classroom floors at the local high school, to play three basketball games in a round-robin tournament.

Joining them were teams from Unalakleet, a village of about 800 people on the Bering Sea, and Homer, a port town like Seldovia in the state's south-central maritime wilderness.

"I feel sorry for those kids back East who just have to drive 20 minutes to the next suburb for a game," said Nikki Dill of Unalakleet. "How boring."...

The distance from Unalaska (on the Aleutian island chain) to Barrow (on the Arctic Ocean), annual regional rivals, is roughly equal to the distance from Miami to Boston.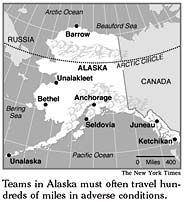 "In Alaska, Getting There Is Half the Fun"
[NY Times]
Boy's Basketball Page
[Unalaska City School]