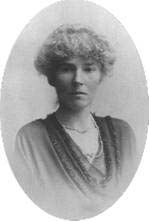 • Gertrude Bell - Born in 1868, educated at Oxford, she was known as the "Desert Queen" and spent much of her life exploring the Middle East. She was recruited by British Intelligence in World War I and she became the Oriental Secretary to the British High Commissioner. In that role she help draw the borders of modern Iraq. More info.

• William Dampier - (1652-1715), British explorer and sea captain, is one of the most highly regarded map-makers and navigators of all time. Dampier was born in Somersetshire, England and went to sea by age 16. Joined a crew of buccaneers. Circled the globe three times, reported on the unique Galapagos wildlife 150 years before Darwin, and visited Australia 80 years before Captain Cook. More info.

• Ernest Henry Wilson - (1876-1930) Plant hunter extraordinar. Found the source of The Handkerchief Tree--Davidia involucrata plus thousands of other plants and trees.