The Ketchup King, aka John F. Kerry, is marching to the White House; better practice your bowing and scraping.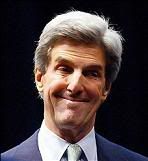 [Wonkette Photo Story]

Democrat Dimmy Karras remembers this personal encounter:

This reminds me of one of my few brushes with John Kerry. I have to rely on my father's memory for this, since I was a youngster in grade school at the time--we're talking 1987 or 1988. The family was on a plane headed off to vacation and my parents happened to know one of the flight stewardesses, who managed to move us up into some empty seats in first class. Senator Kerry happened to be on the same plane, and word from the stewardess is that he wanted to know who we were getting the VIP treatment and all. He didn't come talk to us, mind you, he just griped to the staff that he wasn't the only one getting preferential treatment aboard that plane that night.

I'm not going to throw bombs at John Kerry like Howie Carr does, since the man could be the Democratic nominee and I'll have to back him in that case. Nonetheless, I see a lot of validity in Carr's portrait of the junior senator.