The Sun in the UK reports details about the affair:

PRESIDENTIAL hopeful John Kerry was branded a "sleazeball" last night by the parents of a young woman he allegedly tried to woo.

Alex Polier, 24, was named as the woman at the centre of a scandal that threatens to damage Democrat Kerry's bid for the White House.

Her mother Donna claims Kerry, 60 — dubbed the new JFK — once chased Alex to be on his campaign team and was "after her".

There is no evidence the pair had an affair, but her father Terry, 56, said: "I think he's a sleazeball. I did kind of wonder if my daughter didn't get that kind of feeling herself.

"He's not the sort of guy I would choose to be with my daughter."
New JFK hit by scandal [The Sun]

Imus Blows Interview with Kerry
Don Imus interviewed Kerry this morning on his MSNBC show.

He asks Kerry about "this report on the internet about an intern". Kerry confirms that he knows about the report. Imus denigrates the story even as he asks about it: "There's probably nothing to it. . ." Kerry responds emphatically, "There's nothing to report, there's nothing to talk about, I'm not going to talk about it," ..."The answer is no."

Imus really did not ask a well formed question. What a terrible interview. You can just imagine Kerry's campaign strategists meeting last night and asking: "who is the biggest lightweight we can talk to and throw some water on this fire....oh yeah Don Imus." Imus came through for the Kerry camp on this one.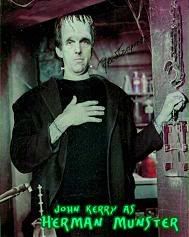 Would You Have Sex with This Man?
picture courtesy Neophyte Pundit