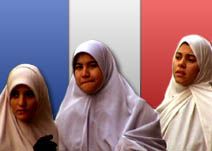 By a vote of 494 to 36, French Members of Parliament decided to ban Muslim headscarves from the schoolroom. Some of their reasons:
The headscarf or
hijab
is not a religious requirement at all. The wearing of it is cultural. It is a badge. A trademark, if you will. Nowhere in the Koran or the hadiths is it mandated that women and girls cover their hair. They are merely advised to "dress modestly."
The hijab is not a fashion statement. It is a statement of a deep religious and cultural divide. It is a statement of refusal to integrate into the host society. It is a statement of superiority: my religion is more religious than yours. I am modest and you are a slut.
Is the iron fist of Islamic fundamentalism reaching out to the host society to impose Islamic control on the indigenes?
Veiled Threat
[TechCentralStation]
update:
CBC reported:
France's ban on religious symbols and apparel in public schools took effect Sept. 2, 2004. The ban includes all overtly religious dress and signs (including Muslim headscarves, Sikh turbans, Jewish skullcaps and large Christian crosses). However, the furor over the ban has focused mainly on the banning of Muslim headscarves or hijabs.

There are about five million Muslims in France – five to 10 per cent of the population – the largest Muslim population in Europe.
France's hijab ban
[cbc.ca]
France hijab saga continues
[Al-Muhajabah's Islamic Blogs]